2007 ICU Vienna Congress Venue
Vienna
Vienna is the capital of Austria and was founded by the Romans more than 2000 years ago (Castorum Vindobona). It contains numerous historic sites and buildings but modern architecture of the 20th century sets various counterpoints. Vienna is famous for its culture. Theatres, operas and concert halls perform on a world class level and museums exhibit an extraordinary broad spectrum of arts. Vienna is located in the very heart of Europe and the capitals of new European Union members like Prague, Bratislava and Budapest are within a visiting distance.
Congress Site
The conference will be held at the Vienna University of Technology in the vicinity of the city centre of Vienna and in the immediate vicinity of the Karlsplatz where the underground lines U1 (red line), U2 (violet line) and U4 (green line) are bound. (see citymap).
The come together party on Easter Monday holiday evening will be in the ceremony hall of the historical main building of the Vienna University of Technology, Karlsplatz 13.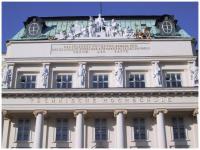 The opening ceremony and all oral presentations will take place in the lecture halls of the new institute building TU-Freihaus (see citymap). The poster sessions as well as the congress exhibition will also be in the TU-Freihaus in the area between the lecture halls. (see layout of the conference site)
Arrival
Public transport in Vienna
There are 5 subways, 32 trams und 80 busses in Vienna.
The historical main building and the TU-Freihaus of the Vienna University of Technology is accessible by the subway lines U1 (red line), U2 (violet line), U4 (green line), trams 62, 65 and the "Badner Bahn" (station = Karlsplatz) and also by the trams D, J, 1 und 2 (station = Opernring).
Tickets are available at the airport, at the subway stations and in tobacco shops.
A searchable city map is available here. A map of the public transportation system can be downloaded here.
Language
German is the official language in Austria. The conference language is English. No translation facilities will be provided at the conference.
Climate
The weather in Vienna in April is usually mild (10 - 15 C lows, 20 - 30 C highs), but with rapid and frequent changes between sunshine and rainshowers, sometimes sun and ran is happening even at the same time.
Currency
The currency in Austria is the EURO (1 EURO is about 1.2 US$). The airport and most railway stations have exchange desks and money is available at numerous cash machines, prepared for major international cards. Hotels, restaurants, and many shops and travel agencies accept all major credit cards or Maestro cash cards.
- Last modified : Aug. 15, 2006 -